Swiss Chard and Cheddar Quiche
Farmers Market Recipes Collection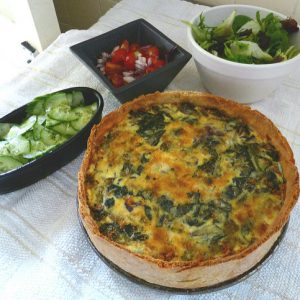 Swiss chard is sweeter than spinach and more tender than other ribbed greens. It's delicious cooked or raw, served as a cold salad or as a side dish of wilted greens with dressing. It's also the ideal substitute for spinach in this rich chard and cheddar quiche.
Be sure to check out our other farmers market recipes!
INGREDIENTS
1

large

onion, sliced thin

1/2

cup

grated sharp

cheddar cheese

2

tablespoons

freshly grated

Parmesan cheese

DIRECTIONS

Preheat the oven to 350 F. Spray a 9-inch pie plate with nonstick cooking spray.
Trim the leaves away from either side of the stems. Chop the stems.
Saute the onion in olive oil until translucent and slightly caramelized. Season with salt and pepper.
Parboil or saute the chard until the leaves are bright green and the stems have lost their crunch.
Layer 2-3 large chard leaves in the bottom of the pie plate. Sprinkle with both cheeses.
Add a layer of onions and more chard.
Continue layering chard , onions and cheese until the plate is full.
Sift the flour and baking soda together in a medium bowl.
Add the milk, olive oil and eggs and beat together well.
Pour the egg mixture over the chard and let it seep through the layers.
Bake for 30 minutes, or until a knife inserted in the center comes out clean.
Let the quiche sit for at least 5 minutes before cutting and serving.

TIPS

A sharp paring knife makes short work of trimming the leaves from the center rib.
Steam the chopped stems for about five minutes before adding the leaves. Continue steaming another 5-8 minutes.