Throughout the month, we'll be writing about food and anti-hunger programs and projects you can support with your time, your skills and your dollars, not just in December but year round. Each type of program has a specific focus and provides for specific needs. Today's focus – five Worcester food pantries that provide food items and produce that people can take home and prepare for themselves and their families. Each of these food pantries needs volunteers to help collect, organize, and distribute food. Most accept food and cash donations to help them with their mission. Many of the organizations that run these food pantries also provide other anti-hunger and anti-poverty services for their constituents and clients. These are just a few of the many food pantries in Worcester and surrounding towns. We're featuring just five of the many food pantries that operate throughout Worcester and Worcester County. You can find a full list of food pantries in Worcester County on the Worcester County Food Bank website.

Carty Cupboard is named in memory of Deaconess Bessie Carty, who devoted 50 years of her life to helping others in need through her service at the church. She was most passionate about ensuring that every person and family had adequate food. The Carty Cupboard Food Pantry carries on her mission by providing nutritious, easy-to-prepare foods for individuals and families in the form of a once-monthly three-day supply of food. They are open to any resident of Worcester County.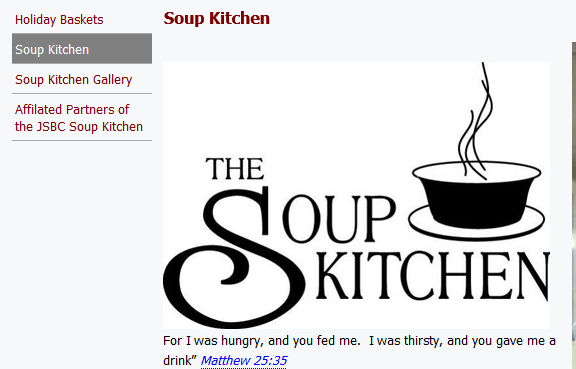 John St. Baptist Church operates a soup kitchen and food pantry that is open to all in need. It has been serving food to people in need since 1983, under the leadership of Mrs. Marjorie Wilson, its President and one of the founding members. Volunteers prepare and serve continental breakfast and hot meals every Saturday from 7:00 a.m. to 12:30 p.m. The aim is to provide not only food, but an open and welcoming atmosphere where visitors can relax, chat and enjoy each others' company.
In addition, the Soup Kitchen also serves as a food pantry on the second and fourth Saturdays of each month, when any person in need can come and select grocery items they need from the grocery table. On alternate Saturdays, the Soup Kitchen will provide a pre-packaged bag of grocery items to those who need food outside the regular food pantry hours. The Soup Kitchen serves an average of 300 hot meals per month, and fulfills an average of 150 requests for food assistance monthly.
Loaves and Fishes at the Unitarian Universalist Church of Worcester

UUCW operates the Loaves and Fishes Food Pantry with the mission of extending compassionate help in the form of food and related resources to people in their area. The pantry is supplied by the Worcester County Food Bank, and accepts donations from individuals. Their clients come primarily from the northern part of Worcester. They treat all people with dignity, and strive to care for each person individually. Loaves and Fishes distributes food monthly, and also provides food on an emergency basis to those who contact the church directly. It is operated entirely by volunteers, and always welcomes people to help pick up food at the Food Bank and set up the pantry the Friday before distribution, and to help staff the pantry on the day of distributions.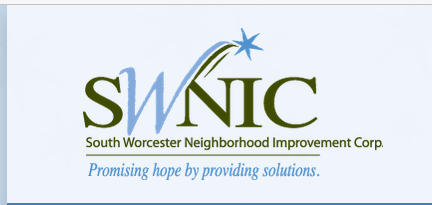 The South Worcester Neighborhood Center has been serving families and individuals on the south side of Worcester since the 1970s. Over the years, the neighborhood center has been instrumental in securing and executing many neighborhood improvements, including affordable housing units and recreational spaces. At the heart of their mission, though, is the empowerment of individuals and families, which they have never forgotten. SWNIC provides a wide range of services, and access to other resources through strategic partnerships. In the area of food security, the South Worcester Neighborhood Improvement Corp. operates a food pantry at their Camp St. location that is open weekdays year round except state and federal holidays. The food pantry is supplied by the Worcester County Food Bank, but individual donations are always welcome.

Friendly House has been serving families in Worcester for more than 90 years, and they continue to provide a wide range of services for individuals and families in need. The organization operates two food pantries, one at its main Wall St. location and one at its Quinsigamond Village Center on Greenwood St. In addition to the food pantries, Friendly House also manages a summer food services program to provide summer meals at 13 locations throughout Worcester. Donations and volunteers are always welcome.
Quinsigamond Village