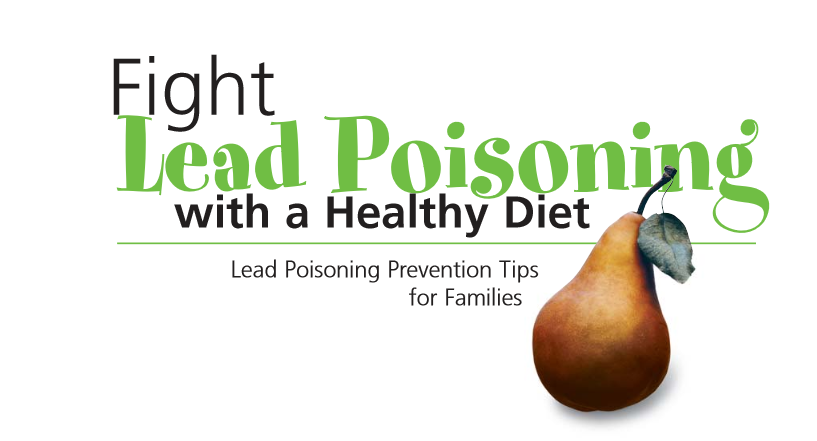 The unfolding tragedy in Flint is keeping the issue of lead in inner cities at the top of the news cycles. Last month, we noted that Worcester, as an older industrial city, is one of the places where lead contamination is an issue, and posted resources to help urban gardeners identify lead contamination in their soil. This week, we're talking about some of the things you can do to protect your family from lead poisoning.
Why This Is Important (and why we're writing about it)
You might be wondering why an organization that promotes policies to increase access to healthy food and opportunities for physical activity in our city would be writing about lead poisoning. The answer is a simple one. Exposure to lead, lead poisoning prevention and treatment for lead poisoning are all intertwined with healthy food access and access to healthy environments, and increasing access to healthy, whole foods can help prevent lead poisoning. Here's why.
The food you eat and feed your family can help your body protect itself from damage caused by lead. Foods that contain iron and calcium can reduce the amount of lead your body absorbs, and foods that contain vitamin C help your body use iron more efficiently. If you live in an area with a high risk of childhood lead poisoning, feeding your family a diet high in iron, calcium and vitamin C is one way to help reduce the damage done by lead.
In other words, increasing access to whole, healthy foods, particularly foods high in iron and calcium, helps decrease the impact of environmental lead.
It's just one more reason that access to adequate, healthy food is vitally important to Worcester. According to the Massachusetts Department of Public Health, which rates the risk of lead exposure and lead poisoning in cities and towns across the state, Worcester ranked in the top 15 high risk cities for childhood lead poisoning. The combination of aging housing stock (more than 80% built pre-1978), high poverty rate (almost 40% of city residents are at or below 200% of the official poverty rate) and low percentage of lead screening in children 9 months to 4 years of age (only 76%) give Worcester a lead risk score that's more than twice the state average.
What You Can Do
Have your children screened. The CDC recommends blood tests to screen for lead levels at 12 months and 24 months, as well as at 6 months for children living in high-risk situations. Your pediatrician should be asking you questions during regular well-child visits to help assess lead risk. If you think your children may be being exposed to lead, talk to your pediatrician and ask for a lead screening.
If you live in a house built before 1978: You can get answers to some of your questions about lead risk in the city's Childhood Lead Poisoning Prevention Program FAQs. If you believe that there is uncovered lead paint in your home, you can call the City of Worcester Inspectional Services Division at (508) 799-1198 to find out how to request a lead inspection.
Adjust your diet. The Mass. Executive Office of Health and Human Services notes that nutritional intervention is only a temporary prevention for lead poisoning – that the most important intervention is to have the home inspected and deleaded. That said, good nutrition helps protect your family. The EOHHS offers this list of foods that help prevent lead poisoning, including lean meat and fish, leafy green vegetables, dairy products, dried beans, strawberries and oranges.
Frequent meals and snacks. The body absorbs more lead on an empty stomach. The EPA recommends feeding kids more frequent, smaller meals to reduce the absorption of lead by little bodies.
Check with your kids' school. School lunches are required to meet certain nutritional guidelines, but those are minimum standards. In areas where there is a significantly higher risk of lead exposure, school lunches and snacks could help provide nutritional support to help resist lead absorption.