It's that time of year again. Farmers markets, backyard gardens, community gardens – wherever you get your fresh vegetables – are bursting with the bounty of … zucchini. If you have gardening neighbors, they're probably trying to hand off their extra zucchini to you because zucchini is one of the most prolific producers in nearly everyone's garden. That's why we figured we'd feature it in our latest installment of Farmers Market Recipes.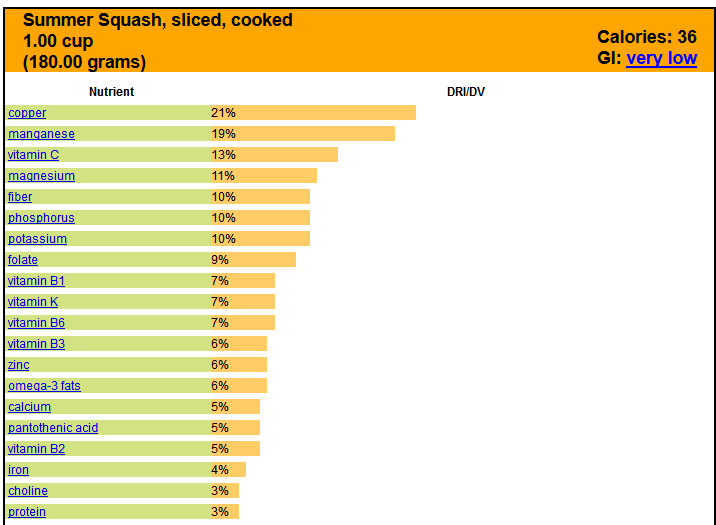 And that's a very good thing, because it turns out that – in addition to being very, very affordable this time of year – zucchini is also packed with important nutrients for a healthy diet at a very low caloric cost. In fact, one cup of steamed zucchini has only 30 calories (and a glycemic index of <15!). It also is an excellent, very good or good source of copper, manganese, vitamin C, magnesium, fiber, phosphorus, potassium, folate, vitamin B1, vitamin B6, Vitamin B3, vitamin K, zinc, omega-3 fats, calcium, vitamin B2, panthenic acid, iron, choline and – surprise – protein.
Of course, all that goodness means nothing if you can't get your family to eat it! That's why we did the legwork (and the testing) to find the most delicious and unusual ways to enjoy zucchini while it's in season! Here are 10 of the best zucchini recipes we found. Hit the local farmers market and enjoy!
Spiral Zucchini and Grape Tomatoes from Skinnytaste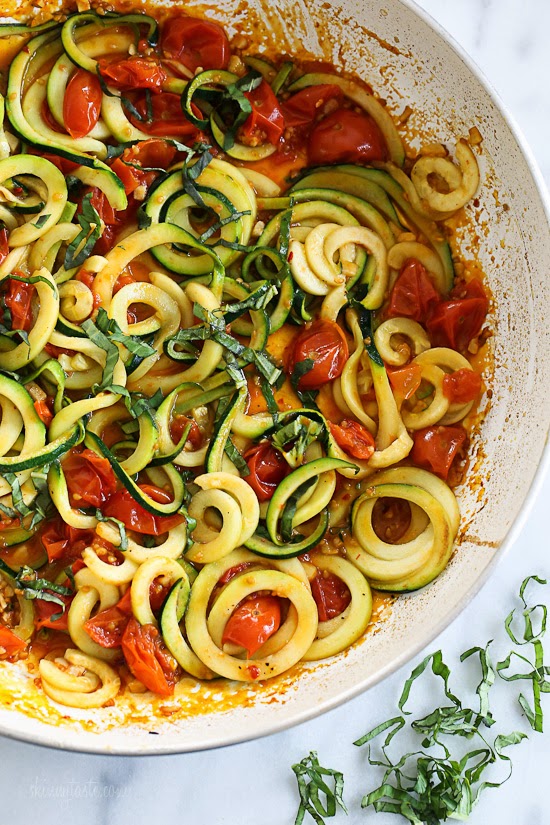 Take advantage of the abundance of zucchini and grape tomatoes for this low-carb, low-cal, full flavor recipe. Two pro tips – you don't need a spiralizer to make zoodles. You're favorite vegetable peeler works just fine. Just hold the zuke with the butt end in the bottom of a bowl and peel downward in long strips. And don't discard the peels! They're full of healthy antioxidant goodness.
Black Bean and Zucchini Quesadillas (Health.com)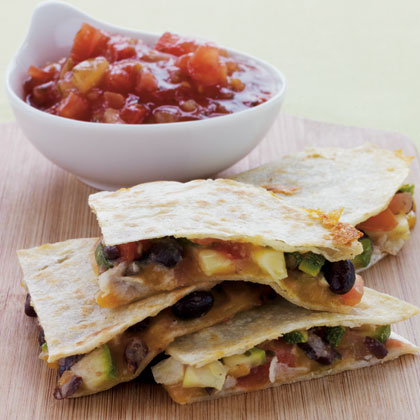 Black beans and salsa star in this quick recipe for busy nights. You can have it on the table in just about 10 minutes – that's less time than it takes to order a pizza – and it's so much healthier!
Zucchini Oven Chips (CookingLight.com)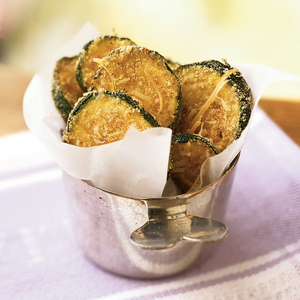 Forget the potato chips and Cheez Balls. Substitute these crisp and light zucchini oven chips for a healthier snacking alternative, or serve them up as a side dish with your favorite protein.
Zucchini Breakfast Cookies (Little Dairy on the prairie)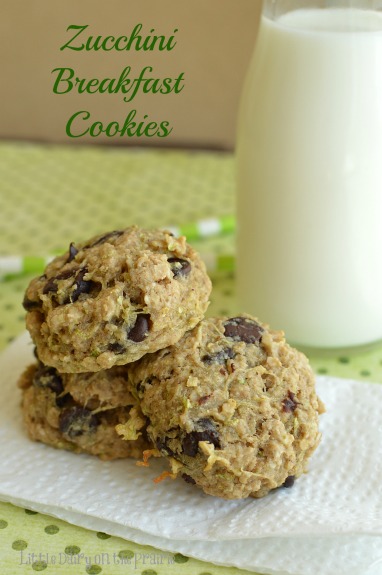 Cookies for breakfast? What kid wouldn't love that? These delish cookies are soft, not too sweet, and chock full of vitamins, minerals and healthy antioxidants, so you won't mind handing them out for breakfast – or tucking a handful into a lunchbox.
Corn and Zucchini Summer Salad (Bon Appetit)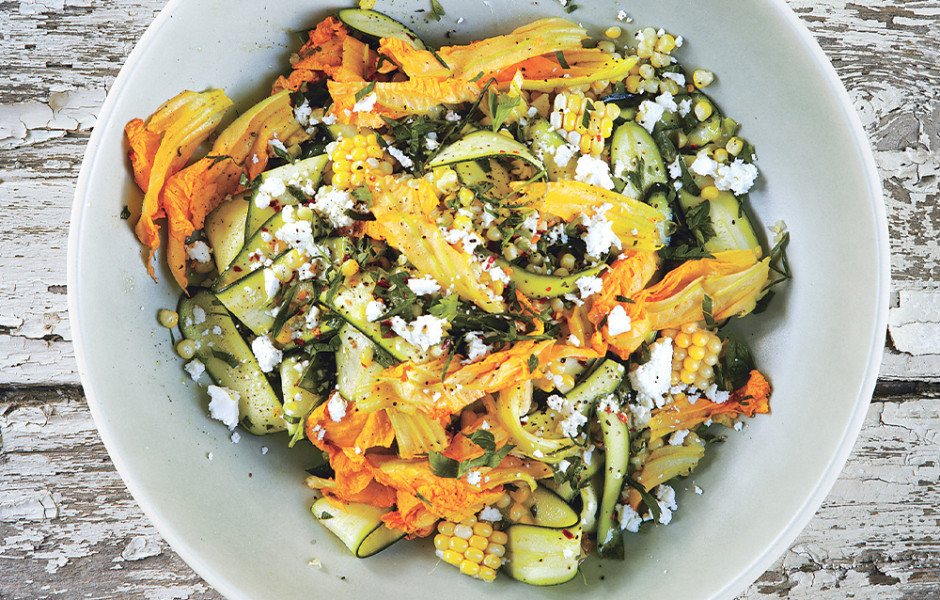 Enjoy all the fresh harvest goodness from your local farmers market – or your own garden – in one delicious dish. Get a head start on this tasty salad by cooking a couple of extra ears of corn the day before, and slice the kernels off just before mixing the ingredients together. The squash blossoms are optional, but but they add color and unique flavor. Don't skimp on the basil and parsley – they add lots of antioxidants along with the flavor.
Easy Sauteed Zucchini (Chow.com)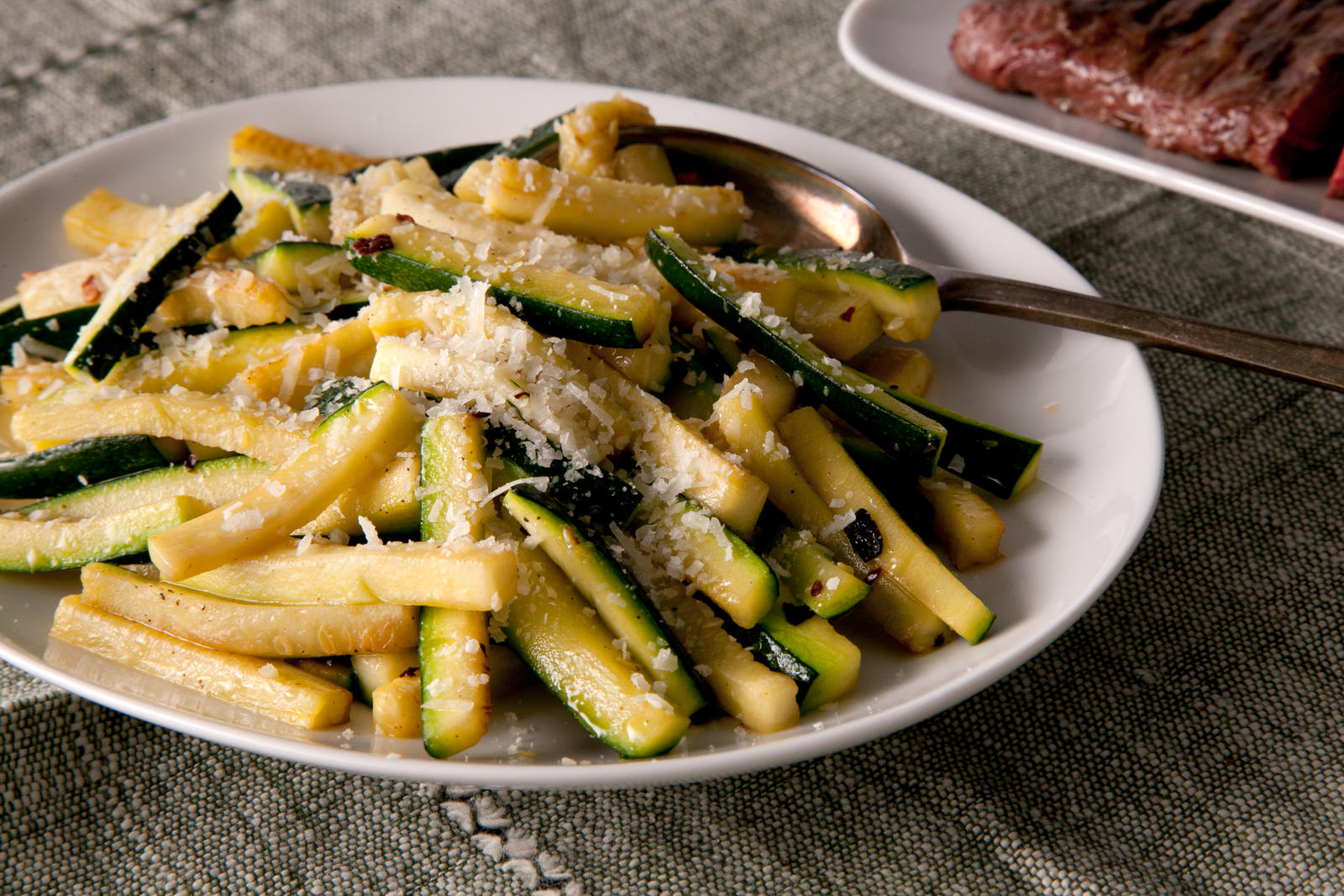 It doesn't get much simpler than this. Just cut the zucchini into matchsticks, saute in olive oil with garlic, sprinkle with Parmesan and serve. The secret to making these super-delicious is to pick tender, young zukes – nothing larger than about 10 inches. If they're much bigger than that, the seeds will have a bitter edge.
Golden Squash Blossom Crema (Vegetable Gardener)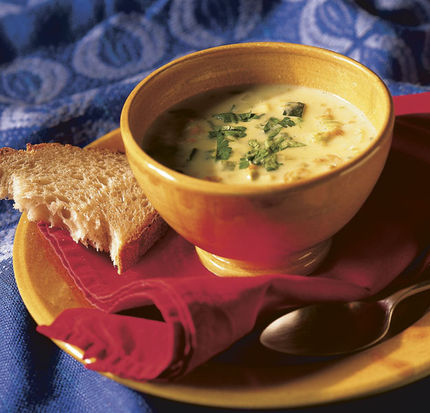 There's nothing light about this creamy, rich squash blossom soup. It's prep-intensive and, if you make it according to the linked recipe, high in fat and calories. It is, however, absolutely delicious, and the delicate flavor of zucchini blossoms really shine. A few substitutions could make this recipe a lot healthier without affecting the flavor and texture much. Swap out the chicken stock for vegetable stock, and substitute coconut milk for the heavy cream – or reduce it by half and make up the difference with skim milk for a healthier meal. Serve it up with whole-grain bread and fresh, sliced tomatoes and enjoy!
Summer Vegetable Tian Provencal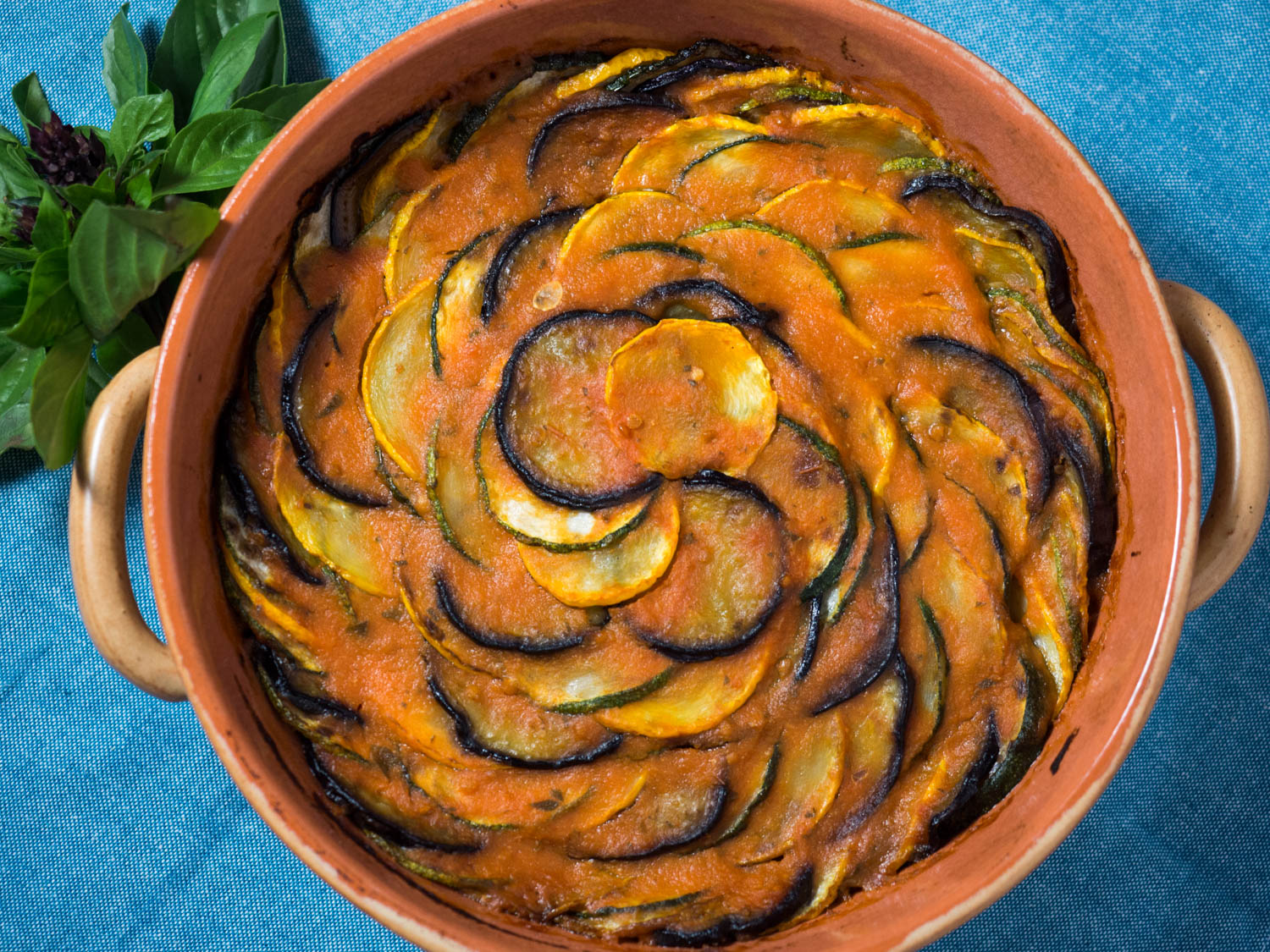 How gorgeous is this dish? If you've ever made potatoes Dauphin, then you understand the principle behind this pretty layered dish. Fair warning – it's time and labor intensive. You really do have to pre-cook the eggplant, zucchini and summer squash slices before layering them, or you end up with a mushy mess. Make it a weekend afternoon project with the kids – they're more likely to try it if they help with the cooking.
Sweet Zucchini Relish (Taste of Home)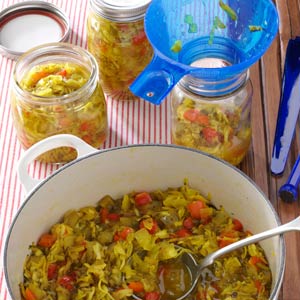 Preserve all that summer goodness to perk up your meals all through the winter. Pickles and relish typically rely on cucumbers, but zucchini makes a great base for tangy sweet relish, or one of these other relish variations.
Flourless Chocolate Zucchini Muffins (Running with Spoons)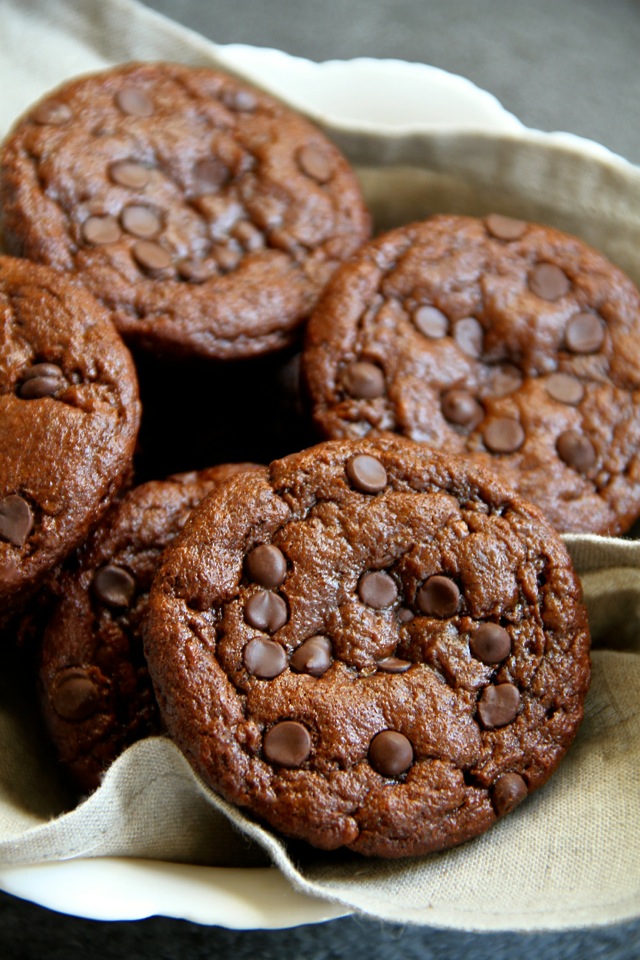 Chocolate. Zucchini. Muffins. Gluten-free, dairy-free, grain-free – and if you sub sunflower butter for the almond butter and use an egg substitute, egg-free. These look all kinds of amazing, and a little special treat never hurt anyone, right?
Save