In today's installment of Farmers Market Recipes, we got creative with two favorite kids' summer vegetables – carrots and corn. Farms all over the region are in the midst of harvesting a bumper crop of both, and you'll see bushels of corn and bunches of carrots adorning farmers market tables just about everywhere. When my 5-year-old granddaughter and I came home with armloads of carrots and corn, I promised her that she could help me make something extra special with them. We were trying to decide between carrot cake and corn muffins when Liv asked, "Why not carrot AND corn in a cake?" Why not, indeed? So without further ado…
Carrot Corn Cupcakes – Farmers Market Recipes
Note: One of the best things about this recipe is how many places there are for even the littlest helpers to get involved. Here are just a few that 5-year-old Liv did for this recipe: strip the corn husks, grate the carrots, line the cupcake tins, crack the eggs, stir the batter, fill the tins, help take muffins out of the pans.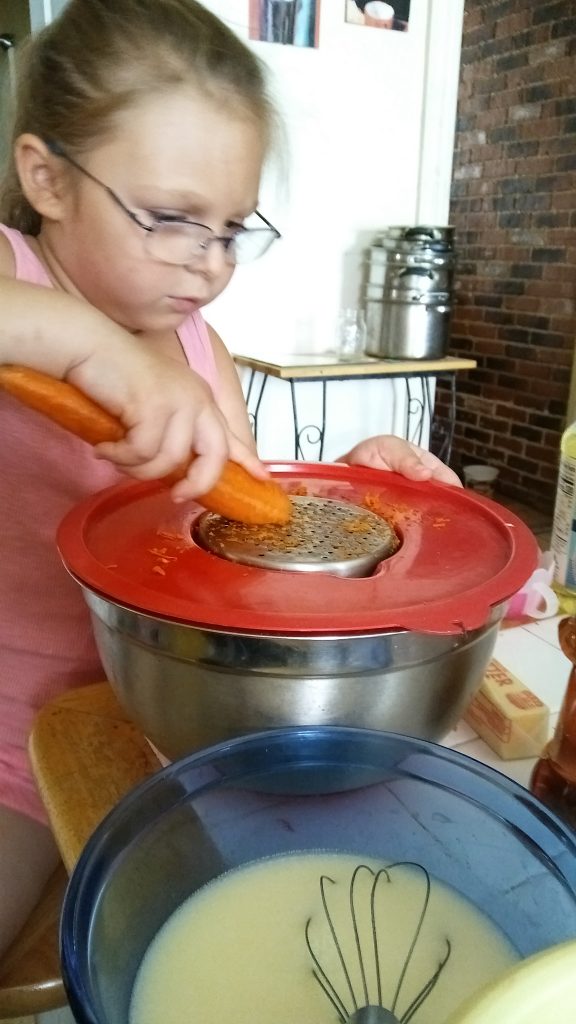 Ingredients
1 large ear of corn, shucked and cooked
2 large carrots, finely grated
2 1/2 cups all purpose flour
1 cup fine corn meal (masa harina)
2 tsp baking powder
2 tsp cinnamon
2 large eggs
1 cup milk (whole, skim, almond or whatever)
1/2 cup vegetable oil
1 tsp vanilla
3/4 cup granulated sugar
3/4 cup brown sugar
Prep Work
Shuck the corn and cook it.
Preheat oven to 350 F
Grate the carrots. You can use a food processor for this, but grating them by hand is a good workout and leads to lots of wonderful conversation with your helpers.
Grease the muffin tins or line them with cupcake liners.
Instructions
Slice the kernels off the corn cob. Add them to the grated carrot and set aside.
Sift together the flour, baking powder and cinnamon.
Stir the corn meal into the sifted flour.
In a large bowl, beat the eggs, milk, vegetable oil and vanilla until well-blended.
Stir the sugars into the egg mixture until the sugar is dissolved.
Add the flour mixture to batter one cup at a time, beating well after each addition until there is no visible flour.
Stir in the grated carrots and corn.
Fill muffin tins about 1/2 to 2/3 full with batter.
Bake in the center of the oven until the tops are golden and spring back when lightly pressed – about 12-15 minutes for full size muffins, 6-9 minutes for mini muffins.
Transfer the muffins immediately to wire racks to cool.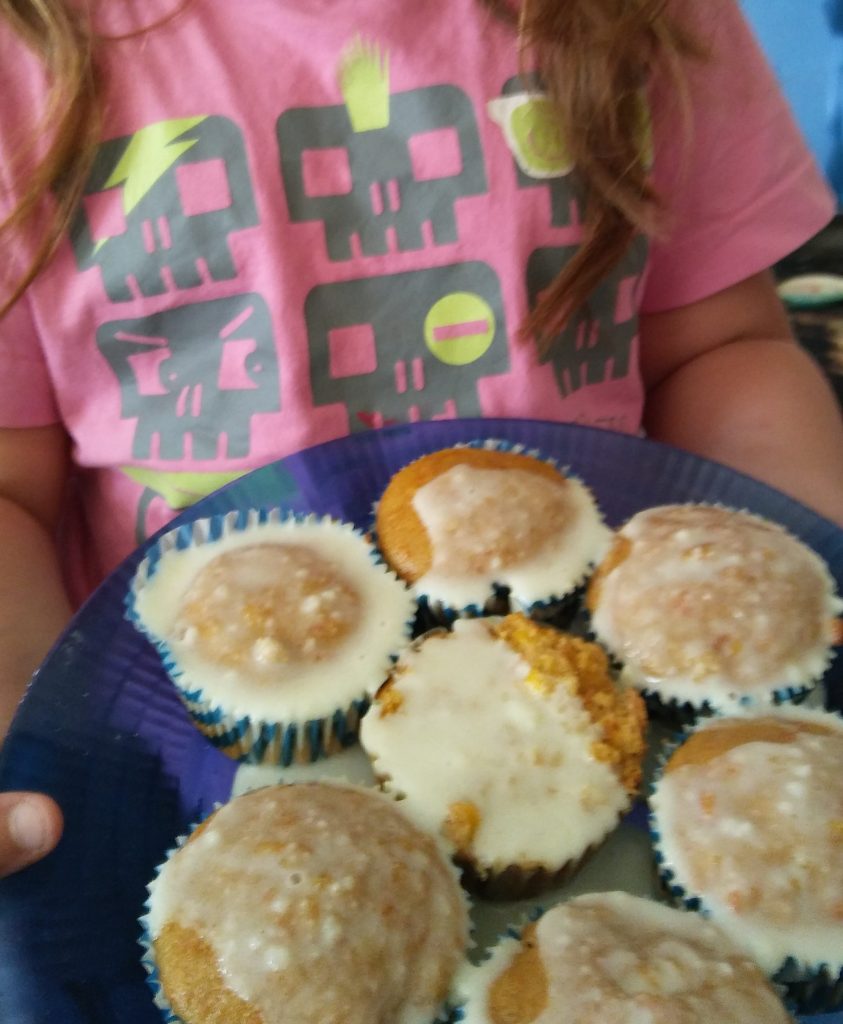 Tips and Info
This recipe makes 2 dozen regular cupcakes or 4 dozen mini cupcakes. They're delicious on their own, but they're also perfect for icing, jam, butter or frosting. We experimented with a ricotta cannoli filling, and it was a bit of a spectacular fail – well, kinda.
They won't win any beauty contests, but they sure do taste good!