A while back, we asked friends to recommend their favorite "overlooked" local food spots – locally owned restaurants and eateries that aren't on Restaurant Row. The local food scene has moved beyond renaissance to the point where Worcester is taking its place as a foodie destination, thanks to an infusion of trendy new eating spots that take up quite a lot of the limelight.
We absolutely love our Bull Mansions and Figs & Pigs, Birchtree Bread Company and so many others that are drawing people to the city, but we also have a special place in our hearts for the smaller food entrepreneurs – the family-run and mom-and-pop operations that tend not to draw the attention of the media.
And apparently, we're not the only ones who love these warm, local food spots. We were overwhelmed with recommendations that ranged from Mexican and Caribbean food to barbecue to African and Moroccan cuisine. Wherever we could, we included an easy link to the restaurant's Bookmark this page for the next time you have a craving for something local and different and show a little love to our own homegrown food entrepreneurs.
These are listed in no particular order, but just a note: Hacienda Don Juan got multiple mentions, and a whole lot of likes from people who also recommended other spots.
Another popular favorite with multiple mentions and lots of likes:
One of our favorite spots for so many reasons – incredible food, and an awesome mission.
A great place for basic sandwiches – good food, great prices!
Bushel N' Peck, a long-time Worcester favorite, gets big points for creative sandwich combinations, awesome soups, and friendly staff:
Fratelli's scored a top pizza in Worcester award back in 2015, and they're still a favorite go-to for folks that like their pizza with an artisan touch.
Real down-home soul food, and a favorite gathering spot. And they have banana pudding – need we say more?
A supermarket in the middle of the restaurants? Word is the lunch counter at Compare Foods downtown has the tastiest, most affordable lunch specials in town.
Easily one of the favorite vegetarian/vegan local food spots – there were lots of raves about the vegan options here.
African specialties, prepared with lots of love!
Another well-known local vegan/vegetarian option, highly recommended by our friends.
Another long-time Worcester favorite – Middle Eastern food, gifts and groceries, and the best baklava in the city!
Relatively new to the dining scene in Worcester, but definitely making waves and getting raves – like Aretha's page to keep up with the specials and find out what's on the menu today!
Great breakfast and lunch food made from scratch, friendly and casual – the corned beef hash is amazing! Also, one of the best places to people-watch in Worcester.
Where can you get a killer Cuban, a perfect Bahn Mi and a Greek Burrito, all in one place? Generous portions, reasonable prices, delivery via GrubHub – one of our personal favorite local food spots!
We hear the meatball sandwich is super good, but all the sandwiches are great!
Unassuming little place that serves amazing Jamaican food…
Jamaican food, two locations, and gorgeous presentation – call ahead for special presentations, like shrimp fry rice served in a pineapple!
Located in the heart of downtown, right across from City Hall, named one of Worcester's Hidden Gems by the Worcester Sun – people rave about the baba ganoush and hummus
Ghanian food? Worcester's got you. The city is home to a close-knit Ghanian community, so it's not surprising that you can find authentic and delicious Ghanian food here. Pro tip: order the jollof!
If you've lived in Worcester for any length of time, you know Maria's Kitchen. It's been a Puerto Rican/Dominican staple for more than two decades, with good reason.
Maria's Kitchen FB Places
Home-style Mexican that tastes like your mama cooked it fresh from scratch…
Back in the day, Suney's All You Can Eat Fish & Chips was a weekly must. These days, it's the all you can eat chicken dinner, served family style on Saturday nights. You gotta love local food spots that are proud of their "worst parking" reputation!
Google lists Joyful Way as an American restaurant, but don't be fooled. Folks in the know list it among their favorite local spots to enjoy home-style Ghanian food.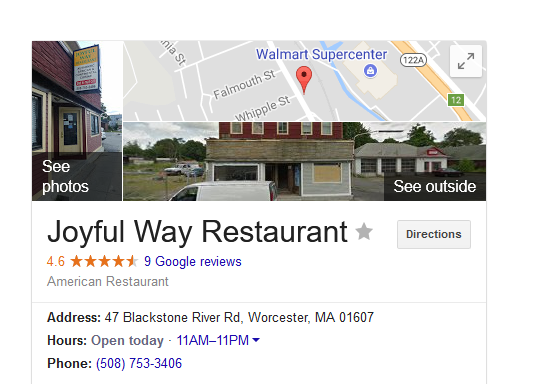 Hot food, Vietnamese sandwiches and box lunches ready to grab and go – one of Worcester's hidden gems!
Have a special event coming up? Gold Coast Catering specializes in event planning with a multicultural flavor and creative, beautiful presentation.
Another Worcester staple, Lucky's is easy to miss if you don't know just where to find it. Serving breakfast and lunch, and brunch on the weekends.
"Blink and you'll miss it," says one reviewer on Facebook – and you'll be sorry if you do! Authentic Mexican flavors, warm, friendly atmosphere. Try the tortilla soup and the beef tacos!
From coffee and bagels to fish and chips, this little family-owned local food spot gets rave reviews. Special mention of their fresh-squeezed juices and smoothies and the tres leches cake!
Choose & Mix touts their healthy Korean and Japanese food – customers love the bibimbap, galbi and dumpling soup.
One of Worcester's favorite breakfast spots, Shaker's Cafe is known for serving delicious food in huge portions. Can't miss items include the Veggie Home Fries and the Lebanese Breakfast.