2018 was a busy year — and not an easy one. A look back at our blog over the past year shows a slew of Action Alerts, where we called on you to help us push some important issue to the forefront and help pass — or prevent — food policies that would affect some of the most vulnerable populations. But we also managed to have some fun along the way. Here's a look back at what we did here at the Worcester Food Policy Council in 2018.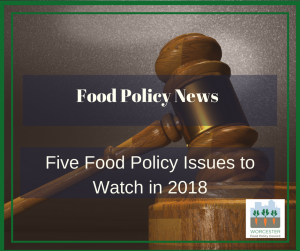 Last year at this time, we highlighted five food policy issues we thought would make big news in 2018. We nailed it with urban agriculture, especially on the local front. It took the whole year, but we finally shepherded the Worcester Urban Agriculture Zoning Ordinance through its last hurdle, aided by an incredible coalition of local activists and organizations. At the last meeting of the city's Economic Development Committee, the zoning ordinance was passed favorably and will be put up for a vote at the first City Council meeting of 2018. Shout out to all the incredible people who made calls, talked to reporters, wrote letters and came out to City Council meetings to get this baby passed. Looks like we made it!
On other fronts — well, climate change has certainly made a lot of noise this year, and the connections between the environment and food security has never been so clear. Droughts, floods and other climate-connected disasters have highlighted the absolute need for a global initiative to address the two issues as related. We've watched the focus on food waste and food recovery turn from individual actions to calls for community and corporate responsibility, with municipalities and states around the country pushing zero-waste policies, plastic bag bans and other policies designed to curb waste and rein in climate change. As for curbside composting — you probably haven't heard a lot about it locally, but we can promise you that there's a lot of background buzz about ways to make it happen.
Healthy Incentives Action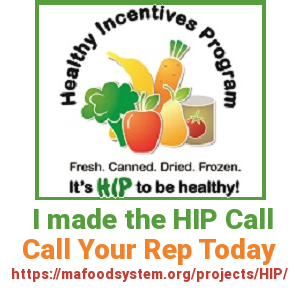 If there's one policy item that defined our year this year, it was the Healthy Incentives Program. We sent out multiple Action Alerts asking you to call your reps and let them know how important this program is for individuals, families, farmers and the community, you responded — and the program was so successful that it ran out of money! That called for a second round of Action Alerts asking reps to allocate more funding — first to get through the rest of the year and then to make sure we don't hit the same snag next year. And it worked — the 2019 Massachusetts Budget included full funding for HIP because you're all rock stars!
#ProtectSNAP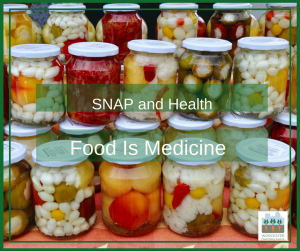 Protecting SNAP was one of our major focus issues over the past year, thanks to one proposal after another aimed at reducing the reach of the single most effective anti-hunger government program. The quickly withdrawn proposal to replace half of SNAP benefits with so-called Harvest Boxes to the end-of-the-year rules change proposed by the USDA bookended the year-long battle over the 2018 Farm Bill, which barely squeaked into law at the end of the congressional session. At issue in the Farm Bill — punitive new restrictions in the House bill that would have booted millions of people off SNAP for up to three years if they were unable to find work — or work enough hours.
Public Charge Rules Change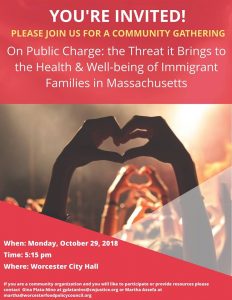 As the year came to a close, we joined with thousands of groups across the country to mobilize opposition to proposed changes to the public charge rule for immigration eligibility. The proposed amendment will change the way that immigration agencies define "public charge" by expanding the list of services and supports that would designate an immigrant who might rely on public services for financial support. Numerous agencies and organizations that work with immigrant populations stepped up to LOUDLY oppose the rules change, which, they said, was already causing people to avoid essential services to which they are entitled because they feared it would impact future decisions about citizenship, green card and visa extensions or worse, target them for deportation. Hundreds of you added comments in opposition to the rules change at the public register, and turned up at comment parties and rallies to help support and publicize this vital issue.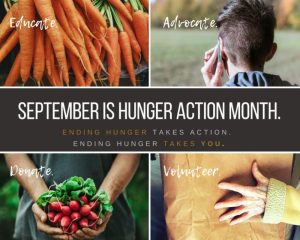 We fought really hard to pass a statewide Breakfast After the Bell bill, but in the end, we didn't quite get past the finish line. That doesn't mean it's dead, though — Worcester County Food Bank has been working hard behind the scenes to get more schools on board. Their success means that thousands of school kids throughout Worcester County now start the day with a healthy breakfast, ready to get down to work and learn. And 2019 is another year! We know that breakfast in the classroom enjoys widespread support, so we fully expect to see it pass and hit the governor's desk this year. Stay tuned!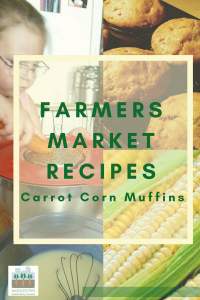 And then there was the fun stuff — we managed to actually keep our promise to post new farmers market recipes four days in a row during Farmers Market Week this year, with a round-up of yummy (and affordable) recipes for berries, greens and veggies bought at local farmers markets. This one was a real bonus, because I got to wear my grandma hat for part of it…my kitchen helper was my 5-year-old granddaughter Liv, who not only helped with prep work — she helped devise the recipe for these yummy carrot corn cupcakes.
We did a whole lot more than that, too and are looking forward to some amazing new things in 2019. Here's just a quick hint from our director, Martha Assefa… (yea, we know that's Central Mass Grown's MacKenzie May, but Martha is there, we promise! Just hit play!)