Next week, people across Massachusetts will be eating on $4.56 a day as part of the 2018 SNAP Challenge. For thousands of our neighbors, though, this isn't a one-week challenge. It's the daily reality of their lives. We're inviting everyone to join us in taking the challenge to find out exactly what it means and how it feels to feed yourself and your family on just $4.56 per person per day. You can learn more about the SNAP Challenge at the Worcester County Food Bank's event page on Facebook. From the event description:
This month, Congress will be pushing to update the Farm Bill, which governs policy that affects farms and food. The Supplemental Nutrition Assistance Program (SNAP, formerly Food Stamps) is part of the Farm Bill and is in danger of being cut drastically. To bring awareness to the importance of SNAP for people at risk of hunger, organizations across Massachusetts are coordinating a "SNAP Challenge" for the week of June 11-15.

WHAT IS THE SNAP CHALLENGE?

The SNAP Challenge is not a game. It is an action in support of, and in solidarity with, the millions of low-income Americans for whom SNAP is a vital resource. It offers participants a view into the struggle of obtaining enough healthy food on a SNAP budget. Participants are invited to live on the average SNAP budget for one week. They'll learn how difficult it is to afford nutritious food, to stay healthy, and to avoid hunger. And they'll be encouraged to consider what life would be like if the benefit weren't available, if they had even less to spend.

From Monday, June 11 to Friday, June 15, participants will live on the average individual SNAP allowance in Massachusetts ($4.56 per day, $22.80 total) to afford everything they eat and drink for the week. Participants are encouraged to utilize social media to share their experiences and tag legislators, demanding accountability and encouraging them to strengthen SNAP!
This one-pager explains how to participate in the SNAP Challenge in more detail: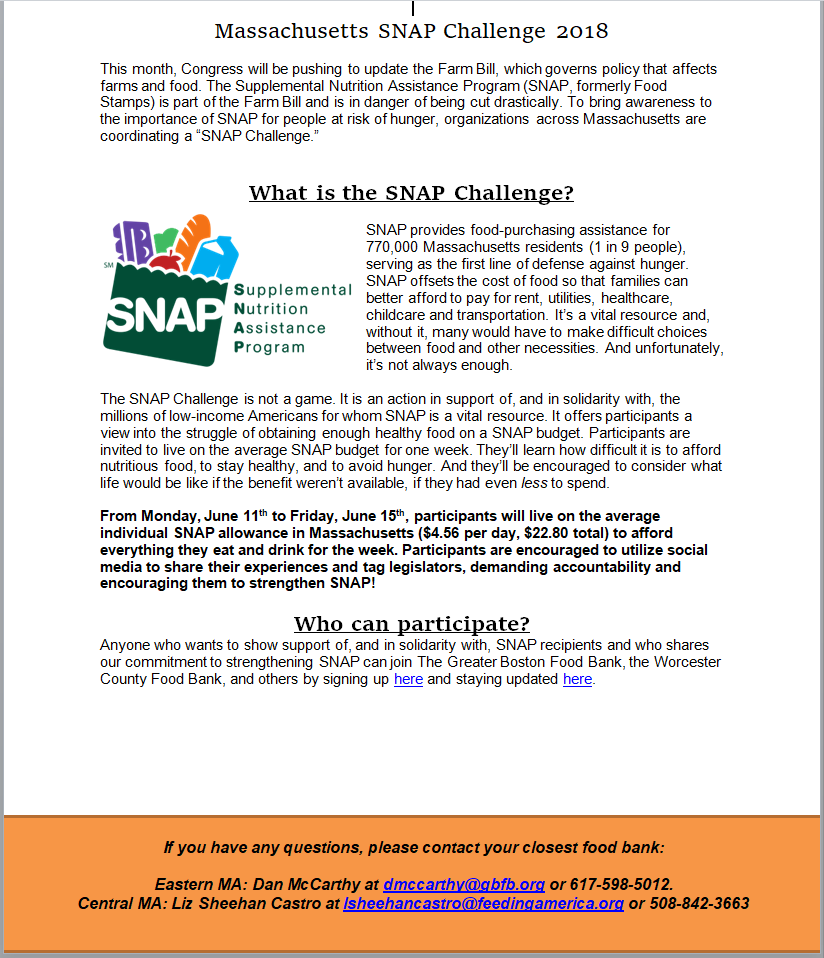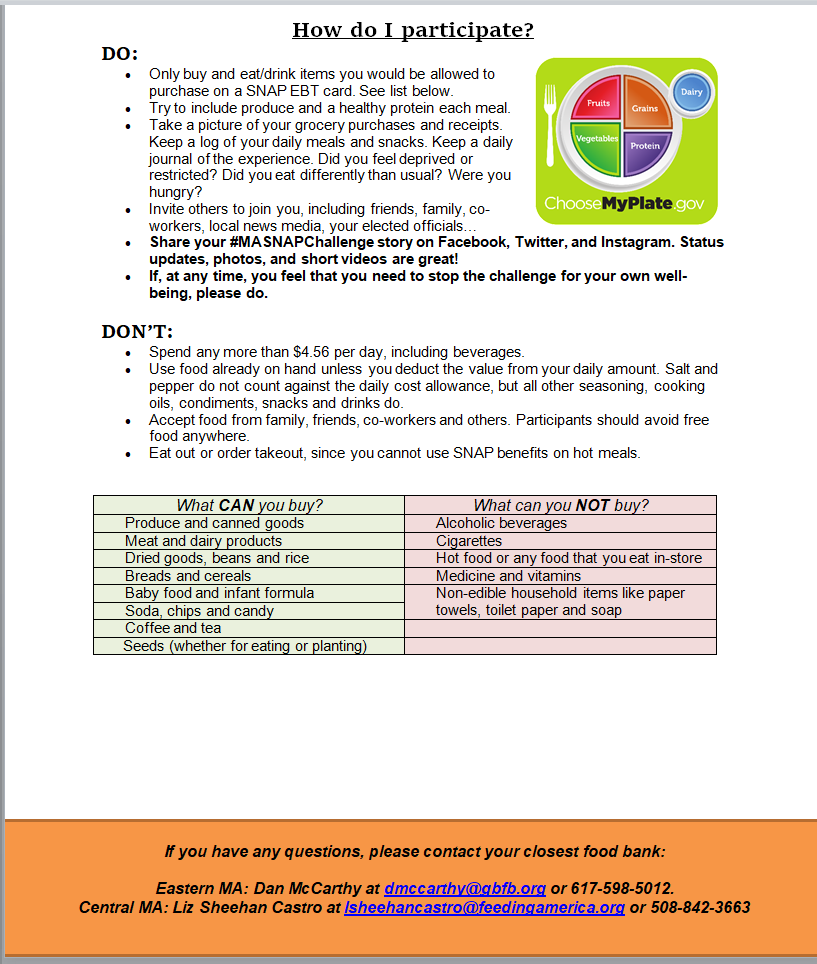 Because the links in the images are not clickable:

Sign up here and stay updated here. For more information, contact your nearest food bank:

Eastern MA: Dan McCarthy at dmccarthy@gbfb.org

Central MA: Liz Sheehan Castro at lsheehancastro@feedingamerica.org

Throughout the week, we'll be sharing resources and information that you can share on social media to help raise awareness about the importance of SNAP and to encourage your friends to take action to Keep SNAP Strong. You can keep up to date on the SNAP Challenge and any advocacy actions you can take by following our Facebook page and the Worcester County Food Bank's Facebook page. On Twitter, Facebook and Instagram, follow and tell your story using #MASNAPChallenge.