As Worcester considers its Urban Agriculture zoning ordinance, we've been doing a lot of talking about "food entrepreneurship," one of those terms of art that sound fancy but may be hard to imagine. What is a food entrepreneur, exactly? You may think it refers to farms and restaurants, but there's so much more to it than just than just those few categories of business. You may think that food entrepreneurs require a lot of startup money, or that it's something for outside investors. In fact, any business that fits into the food cycle – from seed to table and back to seed – fits into the category of food entrepreneurship. In a lot of cases, food entrepreneurs look an awful lot like you and your neighbors. Here are just a few of the innovative businesses springing up around the country in cities that support urban agriculture and food entrepreneurs.
Columbus, Ohio – A family mushroom farm
Tiger Mushroom Farms sells at a local farmers market. Under the ordinance being considered for Worcester, they could possibly set up their stand on their own property and sell to their neighbors.
Lawrence, Massachusetts – Curbside composting
Curbside composting allows people who don't have the space or desire to build and maintain compost piles in their own backyards to practice sustainability. We'd love to see curbside composting as a basic city service, but until that happens, businesses like Roots Compost can pick up the slack. The social enterprise is run by a Lawrence couple in partnership with a local farm, and it's certainly replicable in Worcester!
Worcester, Massachusetts – Value added products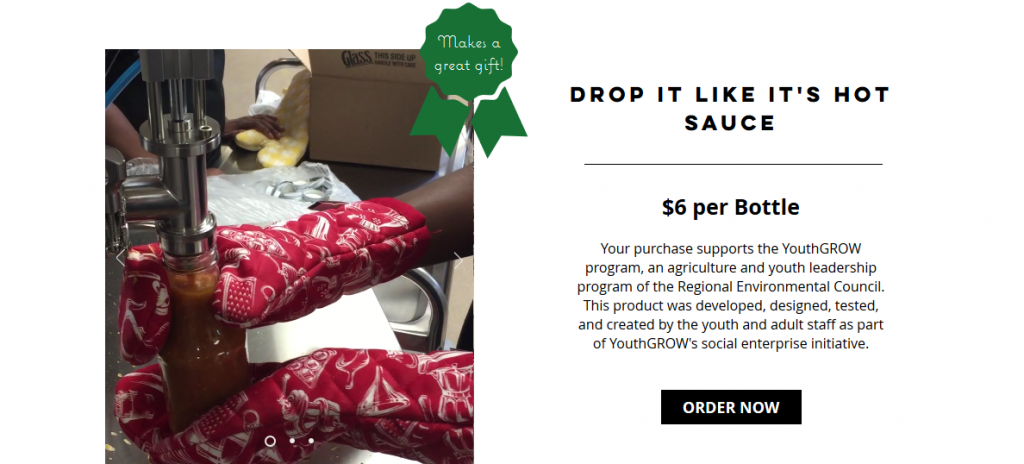 We couldn't talk about successful urban agricultural projects without mentioning Worcester REC's YouthGROW and its value-added product, Drop It Like It's Hot Sauce, which is made with ingredients grown at the YouthGROW farm. Worcester took a huge step in providing the infrastructure to support small-scale urban farming and food entrepreneurship with the opening of the Worcester Regional Food Hub kitchen and business incubator. The industrial kitchen is available at a low cost to local food entrepreneurs, providing a vital link between local urban agriculture and the value-added products they can package and sell. (Go on, click the picture to learn more about some awesome hot sauce!)
Cleveland, Ohio – Urban vineyard
In Cleveland, a once-vacant lot now produces award-winning wine. Like many urban-ag projects, Chateau Hough combines their business with a mission – as a re-entry project employing formerly incarcerated people and returning veterans. Since its inception in 2010, Chateau Hough has grown to include two unused buildings near the original property. The buildings are being reclaimed and turned into "biocellars" to support indoor farming and an aquaponics system. (And for what it's worth, Concord grapes grow wonderfully in Worcester. Concord grape wine or grape jelly, anyone?)
Ballard, Washington – Borrowed bees
While Ballard Bees Company is well-known now for the honey products they sell, their original mission was to help bolster the falling honeybee population. They chose an unusual (for a small apiary business) way of doing that: renting hives to residents and businesses in nearby Seattle, Washington. For a small fee, Ballard Bees will set up and maintain two to four hives on the host's property, including harvesting the honey. The profitable urban beekeeping business is integrated with the company's honey sales, and both help support their other mission – educating new urban beekeepers. Not only do hosts get two jars of local honey per month, their gardens bloom spectacularly. So do their neighbors' gardens, since bees don't recognize property borders.
The Urban Ag zoning ordinance is a first step to building the institutional infrastructure Worcester needs to allow people to grow food, both to feed and help support their families. These stories show how urban food entrepreneurs can get creative beyond community gardening and neighborhood farm stands. Do you have an idea for a business based on urban agriculture? We'd love to hear it!